Walk in interview for the post of PGT (History), purely on contractual basis as per following schedule: PGT(History) : 15/07/2023 at 08:30 ...Read More [+]
<
>


Message from the Chairman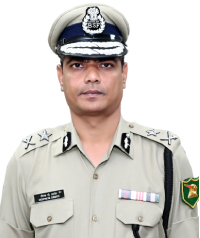 "The main object of teaching is not to give explanations, but to knock at the doors of the mind."
Rabindranath Tagore
It is a matter of great pride and satisfaction that the BSF Senior Secondary School, Kadamtala has created its own website, which will help us to get connected globally.
April 2022, heralds the beginning of the Academic Session 2022 with revamped facilities, SOPs for students safety and every possible step has been taken for levelling the learning gaps triggered by the unprecedented closure of schools due to the Covid-19 pandemic.
We are living in times that is very different from the ones we grew up in, in the one we were educated. Today, children are growing up in challenging times where they have an insatiable curiosity for knowledge. Our dedicated staff help often new vistas in different spheres of life to keep the flame of curiosity burning by making the children think and question the 'whys' and 'wheres' and the 'hows' of everything they learn.
In this way, the school endeavours to equip its students to excel in academics and be become responsible leaders.
I extend my heartiest felicitations to the principal, staff, students and parents for making strenuous efforts in their quest for excellence.
Deepak M. Damor
(Chairman)
IPS, IG BSF NB FTR HQ
BSF Sr. Sec. School
Kadamtala